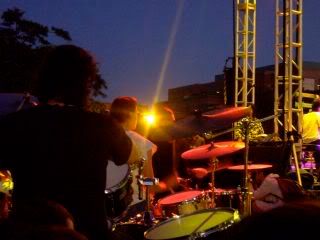 alt="Photobucket">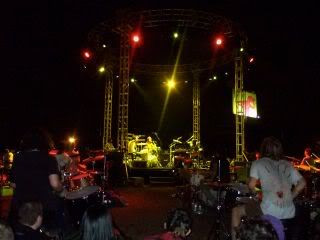 Pants and I went to The Boredom's 2nd "Boadrum" performance last night, this time with 88 drummers (77 participated last year in NYC). Dave Janick represented Bard College as one of the chosen 88 drummers, many of whose names I recognized from bands I liked in the days of yore. It was at the La Brea Tarpits, a cool place because you could stroll around there and still see the primordial ooze seep through the well-manicured grass and concrete.
Overall, while the mere spectacle of 88 drummers being led by a man with a trident was interesting enough, I was a little disappointed. Mostly because the rhythm itself wasn't as rich as it
could
have been. Like a mediocre movie, the show had moments of grace, but lumbered longer it than it should have. In better moments, the unified beat was offset by splashy accents in random areas of the drum circle. I also liked the everyone-solo-ing-at-the-same-time section of the performance. As a drummer myself, I was drooling. But what truly was missing was one basic thing: SYNCOPATION. Why was there hardly any it? The beat was mostly unified, marching, and tribal. This can work too, but the flow was not focused enough. They needed to get all Faust and Tony Conrad on us, or get all crazy. They did neither.
I realize rehearsing 88 drummmers is quite difficult, but c'mon. The opportunity was too golden to let this possibility slide. Couldn't Nike, the sponsor, pay for it. Maybe Adidas could chime in with some cash? I was telling Pants that without syncopation I needed something extra. Something visual or otherwise. Like every drummer dressing like their favorite president. Or the center section, with Yoshimi, blasting off into outer-space like a UFO. Or maybe the thing could be a contest where all the drummers solo at the same time until the last one is standing. The winner would get a pair of Nike shoes and toiletries from the Body Shop®. I dunno. Something.