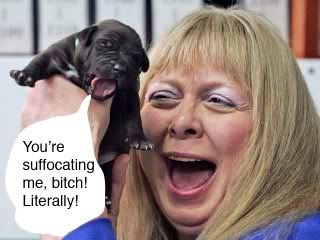 Old man Maslansky has got his panties in a bunch today over a new page in the annals of twat-dom. A woman named
Bernann McKinney
had her old pitbull, named "Booger", cloned. She just
had
to get some more Booger. When I saw the headline for this story I thought they had cloned "Booger" from
Revenge of The Nerds
(1984) (who incidentally makes a cameo in
Southland Tales
(2007). I would have enjoyed this more in theory.
What I find most disturbing is that she actually thinks she's getting the old Booger when in reality she's getting a new ersatz Booger. It's simply a Booger re-acculturated to match a memory his Booger mind cannot fathom. The new one is bound to have some illnesses sooner than later. The old one died of cancer. This one will probably get some kind of super-cancer at the age of 1 year. It's like buying a Chinese knockoff, yet it's Korean. Even more mind-blowing is how much Bernann spent to get her new Booger: $50,000. With that kind of money I could buy a fuckin' (used) 'Vette and fill the trunk with a year's supply of Red Bull and feta cheese. How cool would that be?
But a new Booger? Gauche, my friend, gauche.