When I started this blog, I had never anticipated that I would enter periods of posting nothing but pop culture/sub-culture media and information, as opposed to the true goal, which was to post my ruminations. However, ruminating takes time! And I waste enough of it as it is on Gawd knows what. Only HE really knows too as I don't want to tell you.
My point is that please don't file me, or this blog into the "ha ha, quirky media link" category as I have things to say, and God damn it, I will say them.
In the meantime, here's more sub-cultural fodder. (Maybe you know more about "me", based on the shit I entertain myself with? I hope you get at least that much if you don't find Zach Galifianakis funny?)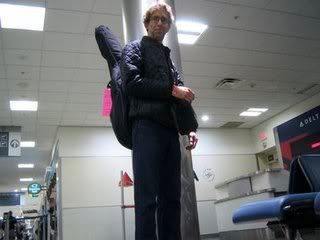 Randy Bewley
, guitarist for the Athens, Georgia based-punk/dance band
Pylon
, died today of a heart attack. I had only recently discovered them but have been enjoying their music very, very much since last Fall. If you haven't heard them before, please check them out as they were truly one of the great post-punk bands of the 80s. They were unfairly overshadowed by their fellow Athenians, R.E.M., maybe one of the most overrated bands in music history, but mostly because less then more people find stripped down, atonal punk music the bees knees.
Dub—

Pylon
**If you any of you want the whole re-issued album,
Gyrate
, a bonafide, classic, let me know and I'll upload it to you.
!!!!!!!!!!!!!!!!!!!!!!!!!!!!!!!!!!!!!!!!!!!!!!!!!!!!!!!!!!!!!!!!!!!!!!!!!!!!!!!!!!!!!
Also, in lighter news, my NEW NEW NEW NEW website is finally up! It's a work in progresso, but send me any thoughts if you got some:
www.maxmaslansky.com