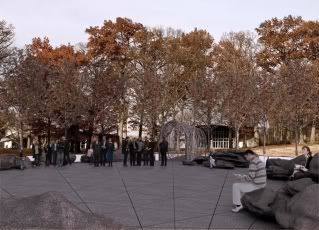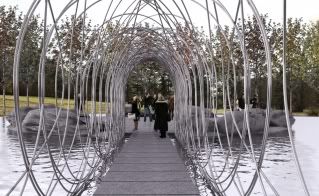 Olafur Eliasson's Parliament of Reality, a new, permanent outdoor installation created specifically for Bard College, will be completed Spring 2009. Conceived specifically with the life of the College in mind, The Parliament of Reality draws attention to our surroundings, both man-made and natural, while challenging the way we perceive and act in the world. The project is inspired by the Althingi, or Icelandic Parliament, the oldest national democratic institution in the world. The work is located on the North end of Bard's campus, near the Richard B. Fisher Center for the Performing Arts.
Man o' man have things changed since I graduated from Bard 10 years ago. The most impressive sculpture on campus back then was this gigantic spinning metal thing. One cold winter night I remember staring at it for 2 hours on acid.
Now they got this Eliasson thingy which cost over 1 million dollars to build. Maybe the students have gotten tamer since 'my day', but I bet they will make good use of this sculpture all year round as a receptacle for a wide array of bodily fluids.