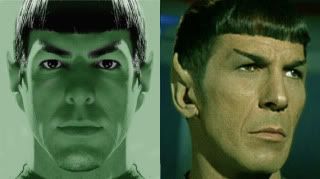 I saw the new
Star Trek
film today. I found the film to be kind of sweet, an unusual word for the science fiction CGI orgies that permeate every release these days.
I'm not a Trekky and never have been, but when I saw the old Spock (Leonard Nimoy) meet the new Spock (Zachary Quinto), my eyes welled up with tears
*
. There I said it. Does this mean I'm a
repressed
Trekky?
*The same thing happened when they killed King Kong in the recent remake.