Things are on the mend over here in Vermont. Melatonin has worked its magic and your humble blog-ater can now rest in peace and enjoy his time in the woods.
A new 'soundtrack' to my life here right now has been the song "Like an Eagle" (1979) by Dennis Parker.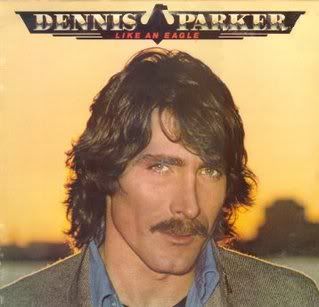 Mr. Parker, previous to recording "Like an Eagle", was a successful porn star who went by the name Wade Nichols. One of his film producers helped run the legendary Casablanca Records label based in Los Angeles (incidentally, their old porn/record headquarters is now the home of the 'up and coming' Circus Gallery). This no doubt parlayed Mr. Parker's talents from sexing to singing. The record was rather popular in the clubs and helped him make the transition to more mainstream acting roles, most notably on a long-running soap opera in the early 80s. Unfortunately his career was tragically cut short when he was diagnosed with AIDS. In those days, there was absolutely no cure or anything so it was pretty much a death sentence. He committed suicide in 1984.
"Like An Eagle" is a swooping existential number, which has a certain melancholic tinge to it, even though it was a club hit. I like his silver outfit and excitable expression on his face. I love the part where he's like "I'm lookin' at you, lookin' at you, lookin' at you...". Ha Ha.
And the next number is "I need your Love". Not the greatest song, but it's worth watching because the video makes no sense whatsoever. Please note the awesome incongruous transition between being hit on the head with the cro-bar and the 'disco/love' world with titties. Enjoy!