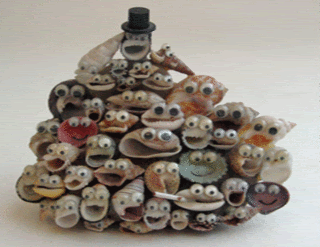 seashells with googly eyes, rocks, wood, miniature top hat.
I just got the bestest gifts for my family at this
website
, run by a certain Paul Williams. I don't think his eye could be more 'n sync with my own for absurd/ugly/awesome objects and arty doodads.
Collected over a many years and kept in a lovely, musty, aged-wood room, the objects are perfect gift finds for people who appreciate the awesome. Before I start sounding like a magazine blurbical, I will stop writing now. L.A. peeps, come to him for gifts that would make you the envy of the kingdom.